It was Kieran's due date on May 28th, so I took him in to be weighed because I was curious - he felt a lot heavier to me all the sudden, plus it had been a week and a half since he last was weighed at 6 lb, 4 oz. Well, just ten days later Kieran weighed 7 lb, 6.5 ounces - an 18 ounce gain! Also, by rough calculations in my head, he will soon TRIPLE his birth weight of 2 lb 10 oz - I think he'll hit that mark at 7 lb, 14 oz. Not bad, eh? Can I get a WHAT WHAT for mama's milk!? :) This is a huge blessing that he has been able to gain weight easily. Since he should be matching up developmentally and physically with babies born in May, he's right on track with his weight because he now weighs what many newborns do (In fact, 7 lb 6 oz was Maia's birth weight!) I am so happy that he doesn't have any more "catch up" to do with regards to weight. I can't wait to find out what he weighs at his next check-up on Friday, because he 's going through another growth spurt now. He's also been wearing 0-3 month outfits, as newborn are tight in the crotch and legs now, so he's getting taller, too!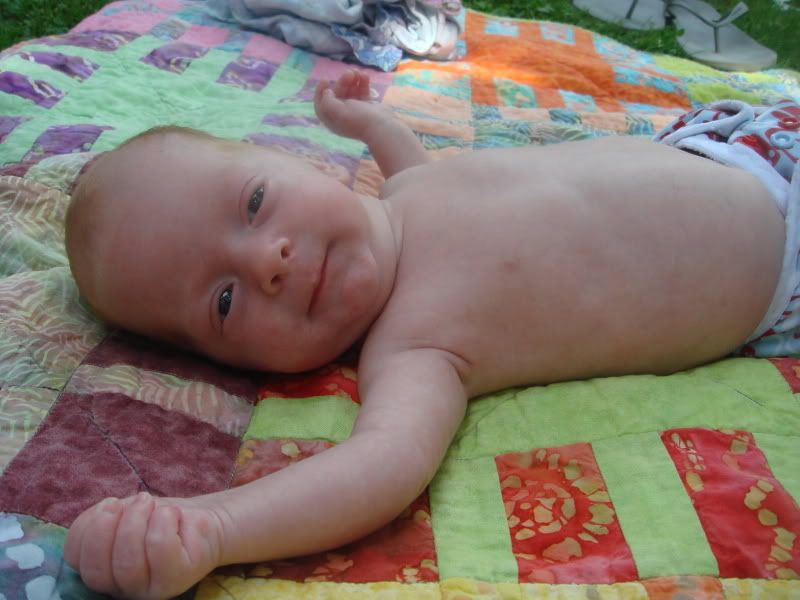 Happy "zero" day to my little man - no more gestational ages for him, he's now "zero" corrected age - or on Wednesday he'll be one week corrected/11 weeks actual. Still crazy thinking he was due now and he's been here for 10.5 weeks. And to think we had such a wild NICU ride and now he's just living the baby dream at home, in our arms :)
Here are some cute shots of the kids from earlier this week
Picked up a kiddie pool since it was so dang hot out
We introduced Kieran to the kiddie pool...which he didn't care for as much as Maia!
Josh & Maia are in the upper peninsula of Michigan this weekend and I'm really missing them! They went to visit Josh's mom and grandma - Josh's mom lives in GA but is visiting her mom, so that worked out well. I hear that Maia's swimming a bunch & as I sit in our living room roasting with a hot nursing baby in my arms I am a bit jealous! Here's a picture of her I grabbed from Gale's Facebook page. If I remember correctly, she's in a river that connects to Lake Superior - Josh's grandma Bev lives right next to Lake Superior.
It feels so weird to be home with just one kiddo. It's SO quiet!! Plus I've been going on walks with Kieran and it just feels like something is missing until I go, "oh yeah, I usually have
two
kids with me!" But it's a treat to have some one-on-one time with my little guy holding him, kissing him, staring at him - oh, and it's nice to change his diaper without big sister wanting in on the action as well. I should videotape her, she is such a mother hen that she can almost fully change his diaper! It's crazy!