Okay, update time! I wish I had something conclusive to say...yesterday Kieran's neonatologist said he was "perplexing;" today, she said he was "puzzling." Not exactly what you want your child's doctor to say! Basically we know this: Kieran's white blood cell & platelet counts are down - usually indicative of an infection, but all cultures are clear and he shows no signs of any infection, so his antibiotics were stopped. So next they checked for possible viruses - nothing there either so far, except we await two tests to rule out CMV (a very common virus in the herpes family) and toxoplasmosis - very unlikely it's the latter, but they're checking it anyways since we have cats. Then the neonatologist thought it could have something to do with his bowels but an abdominal x-ray ruled that out, too. Liver function is all normal and the echo of his heart checked out fine as well. So we're leaning towards something with the kidney now.
Kieran has hydronephrosis (an enlarged kidney) which we've been keeping an eye on since he was in utero. A recent renal ultrasound to re-check it indicated the kidney looks about the same and looks healthy from the outside. Based on the fact that Kieran's been spilling some protein into his urine, they've run a battery of tests to see what that could mean. Since his neonatologist doesn't specialize in kidneys, some nephrologists from Children's St. Paul have teamed up to try and figure out what's going on and they've ordered some of the tests that have already been done to compare to the past few days (protein, protein/creatinine ratio in the urine) and some new ones -and albumin level and maybe another one, too - I don't remember. If you know anything about kidneys maybe you'll know what I'm talking about! Anyways, those are the labs being run, and the lab results will be back tomorrow morning. I hope we find out what's going on soon! I'm about to call in Dr. House to help figure out what's up ;)
Back in the isolette while on the oxygen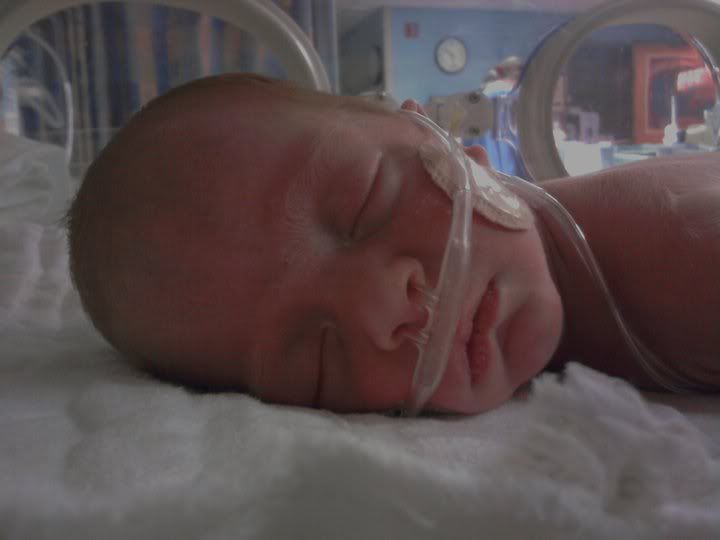 As for today, Kieran is doing well. He's now 4lb, 12 ounces. We did some kangaroo care today and he loved it! He's been on either very low oxygen or room air funneled through the nasal cannula. He is starting back on feedings today - 10ml every three hours of straight breastmilk (no added fortifiers) and he will continue to be on IV nutrition until we get back to his full feeds (around 40 ml.) Kieran doesn't have the feeding tube right now so he's just been getting bottles of milk and when I gave him his first taste of milk after 48 hours he gulped it down SO fast, he was so excited! He's taken each bottle with ease so perhaps we'll never see the feeding tube again!!! His doctor said he would be able to breastfeed again tomorrow, most likely, which is wonderful :) It's been hard to hold him (and especially to do kangaroo care with him) and not be able to nurse him when he's rooting.


All in all, I'm praying this all gets resolved soon. One of the neonatal practitioners mentioned that in a preemie like Kieran, something small can set off a chain reaction, so whatever is bothering him could be the reason his WBC & platelet count are low, and that in turn messes with his oxygen intake and is the reason he keeps de-satting. The sooner they figure out what's bugging him, the sooner he'll feel better and we can get back on the path towards going home.